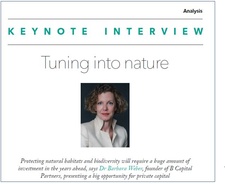 Infrastructure Investor - Keynote Interview "Tuning into nature"
Protecting natural habitats and biodiversity will require a huge amount of investment in the years ahead, says Dr Barbara Weber, founder of B Capital Partners, presenting a big opportunity for private capital
Extract from the Article:
What are nature-based solutions in the context of infrastructure? Nature-based solutions are quite simply any actions that protect, manage or restore natural ecosystems, at the same time as providing benefits for people,protecting habitats and enhancing biodiversity. Infrastructure is the obvious means to safeguard vulnerable places where people live and work, such as building defences that protect the areas by coasts and rivers from flooding. Climate change has increased the need for sustainable and resilient infrastructure.
The added challenge is to create resilient protection in a natural way, which doesn't generate additional damage to the environment or have unintended consequences for communities and natural ecosystems. To get there, a change in mindset is required – accompanied by suitable regulation and legal frameworks – to set the right incentives and thereby align interests, which in turn allows private capital to enter this space and to help address the issues while ensuring a viable economic return for investors.
Infrastructure Investor - Keynote Interview "Tuning into nature" (PDF/769.6 KB)