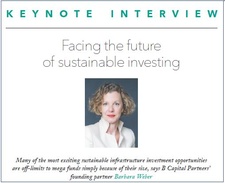 Infrastructure Investor - Sustainable Investing
Facing the future of sustainable investing - Interview with Dr. Barbara Weber, November 2020
Extract from the Article:
What is underpinning the need for sustainable infrastructure investment?
Investments in sustainable infrastructure are needed because the surrounding, be it environment or society, and infrastructure mutually impact each other – positively and/or negatively.
On a high level, we see three, interconnected megatrends, which will lead to major structural shifts in infrastructure investing: climate change, urbanisation and technological advancements.
The world is heating up and that is going to have severe consequences in terms of rising sea levels, increasingly heavy rainfall and shrinking glaciers, leading to real environmental and human challenges around flooding and water shortages, an increase in pathogens and a decrease in biodiversity.
Meanwhile, the world's population is projected to grow to up to 8.5 billion by 2030, a full billion more than 2017. With people concentrating in urban centres, there will inevitably be a rising demand for new and modernised infra- structure that can deal with everything from waste to emissions.
Finally, tech advances are also radically altering which investment concepts are going to be sustainable. They are translating into opportunities around the digitisation of the energy and transportation industries: smart cities and smart homes as well as zero-emission engines enlarging the investor universe.