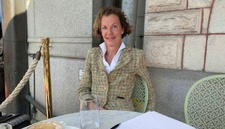 The Challenges Facing Sustainable Infrastructure
Interview with Dr. Barbara Weber by Filipe Wallin Albuquerque, on November 7, 2019 on nordsip.com
Extract from the Article:
As sustainability and climate-related risks continue to climb to the top of policymakers' and investors' agendas, sustainable infrastructure is receiving increasingly more attention. We were fortunate to catch up with Dr Barbara Weber (Pictured), founder and Managing Director of B Capital Partners AG, to discuss this asset class, which her firm specialises in.
"An important hurdle many investors are still facing when wanting to invest in sustainable infrastructure is to establish infrastructure as an asset class into their asset mix in the first place," starts Dr Weber. "Once the infrastructure bucket is integrated in the asset class mix, the step towards sustainable infrastructure has become comparatively small in today's market environment. Investors have moved remarkably towards sustainability. A couple of years ago, I would not have been this optimistic."
...