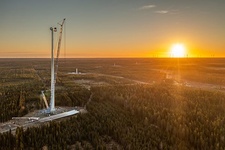 B Capital Partners contributes to net zero emissions by co-investing with Puhuri in the 87MW Kaukanen and Keso wind farms in Finland
Funds advised by B Capital Partners AG co-invest with Finnish developer Puhuri taking a 34.1% stake in the Finnish wind farms Kaukanen and Keso.
The B Capital Energy Transition Infrastructure Fund has signed an agreement with Finnish wind developer Puhuri to become a co-investor with a 34.1% equity stake in the wind farms Kaukanen and Keso. This transaction is its first investment in Finland with the intent to broaden the fund's active contribution to the energy transition in the Scandinavian market. Prior investments in wind and solar parks in Germany as well as in hydro assets in Norway already underline B Capital's strong commitment to transactions that actively drive positive impact and financial outcomes.
On the path to net zero emissions, renewable energy is one of several key sectors of the energy transition pursued by B Capital Partners, a Zurich-based asset manager specialised on sustainable infrastructure.
Upon commissioning of the wind farms in early 2023, the Finnish developer Puhuri will manage them under a long-term technical and commercial management agreement. This cooperation with Puhuri exemplifies once more B Capital's strategy of entering early in the investment process into long-term relationships with experienced developers. This approach has proven to be successful also in other sectors such as German battery storage.
The Kaukanen and Keso wind parks are located 500 km north of Helsinki and are about 80km apart. Together these two wind parks have a rated capacity of 87MW, with a combined energy yield of 275 GWh, sufficient to supply about 19,000 Finnish households with carbon-free energy.
"We are delighted to add these renewable energy assets to our investors' portfolio and look forward to a long-term relationship with Puhuri regarding the management of these assets as well as the acquisition of further assets" comments Dr Barbara Weber, Founder of B Capital.