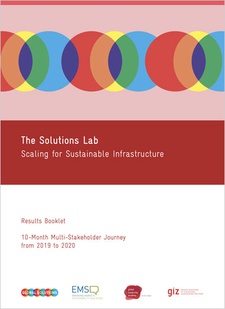 B Capital Partners participated in "The Solution Lab: Scaling for Sustainable Infrastructure"
Dr. Barbara Weber, Founding Partner of B Capital Partners AG, participated as one of 28 experts from 15 countries in a 10-month multi-stakeholder journey (Nov. 2019-Sept. 2020) to jointly identify sustainable infrastructure solutions that work as well as strategies to implement them at scale. The results and key outputs have been published in a Results Booklet: "The Solution Lab: Scaling for Sustainable Infrastructure".
Sustainable Infrastructure is globally recognised as key to realising the Sustainable Development Goals (SGDs) and the Paris Agreement on Climate Change. The participants of the Solutions Lab agreed to define sustainable Infrastructure as follows:
"Sustainable Infrastructures are man-built or natural systems that provide services in a manner that ensures economic and financial, social, environmental and institutional sustainability in line with the Global Goals and over the entire infrastructure lifecycle, from strategic planning all the way to decommissioning."
B Capital has been advancing Solutions Lab's objectives by developing and deploying its open source ESG Due Diligence Tool (Download .xlsx/2,3 MB). All assets in our portfolio contribute to UN SDGs and are managed under strict sustainability criteria. B Capital continues its work on integrating ESG-related risks and opportunities into financial models, including that under the Coalition for Climate Resilient Investments (CCRI) initiative.
---
B Capital Partners hires Daniela Altenpohl as Head of Investor Relations
B Capital Partners AG, a partner-owned investment house, established in 2003 in Zurich, is proud to announce and welcome Daniela Altenpohl as Head Investor Relations.
Daniela has a strong background in corporate and financial communications. She was in charge of investor relations at Barry Callebaut AG, listed on SIX Swiss Stock Exchange and operating in more than 40 countries worldwide. Due to the group's global sourcing activities, Daniela was also involved in setting standards for its responsibility reports.
She started her career in primary capital markets advisory for Swiss Multinationals at Credit Suisse in Zurich and CSFB in London. Further Daniela worked many years in management consulting, advising mid-sized financial and industrial companies in corporate and financial communication as well as in quality and process-reengineering projects. Daniela holds a Master's in Business Administration from University of St. Gallen (HSG).
We are pleased to welcome Daniela to our team.
---
B Capital Partners hires Andréanne Lavoie as Senior Asset Manager
B Capital Partners AG, a partner-owned investment house, established in 2003 in Zurich, is proud to announce and welcome Andréanne Lavoie as Senior Asset Manager.
Andréanne is an expert in managing complex infrastructure assets, especially within the renewable energy sector, and in negotiating and managing project finance facilities for large infrastructure projects involving construction risks. More specifically, Andréanne has more than 10 years of international experience in the infrastructure sector.
Before joining B Capital, she worked for a European energy infrastructure fund, focusing on the rather comprehensive asset management of several large wind projects with rated capacities of approximately 1,400 MW in Scandinavia. Prior to that, she was involved in the development of Norway's first full scale offshore windfarm concession.
Andréanne also worked as Group Treasurer in an international oil services company, focusing on limited recourse and bond financings, after starting her career working with project finance for the natural resources sector.
Andréanne holds an Executive Master of European and International Business Law from the University of St. Gallen, a Master's Degree in International Risk Management from HEC Paris, and a Bachelor's Degree in Economics from the University of Bergen.
We are pleased to welcome Andréanne to our team.
---
B Capital Partners AG and IISD quantify ESG factors for the assessment and evaluation of direct infrastructure investments
A case study
B Capital Partners AG (B Capital) and the International Institute for Sustainable Development (IISD), supported by the MAVA Foundation, have undertaken a Sustainable Asset Valuation (SAVi) on one of B Capital's onshore wind portfolios in Germany, thereby laying the groundwork for the quantification of selected environmental, social and governance (ESG) factors in the investment process of direct infrastructure assets. The main goals of such an assessment are to improve the transparency of an asset's impact on the environment as well as stakeholders, to obtain a more comprehensive view on "sustainability adjusted" risks and internal rate of returns (IRRs), as well as to reveal the asset's financial resilience towards climate change risks. For a summary of the results, please see link below).
Infrastructure interacts with its adjacent society, it impacts the environment, and plays a vital role in the economic development of societies. Accordingly, understanding ESG risks of and co-benefits delivered by infrastructure assets matters. Yet, the investment industry is still struggling how to quantify and integrate ESG factors adequately in the investment as well as asset management process. The goal of such an integration is to reflect a more realistic risk adjusted return in light of climate change and other environmental and societal challenges.
The SAVi assessment applies system dynamics modelling and financial analysis, which in combination serves to value selected environmental, social, and economic externalities (costs and benefits), and calculate the costs induced on the asset owner by two climate change risks (air temperature increase and introduction of a carbon tax). These factors are then integrated into the calculation of key financial performance indicators.
The results demonstrate that unlike gas power plants, with which the wind power plant was compared, the performance of the onshore wind portfolio is not affected by the two climate change risks considered. The internalisation of environmental, social, and economic costs and benefits (externalities) however do reduce the sustainability adjusted IRR of the wind portfolio.
---
B Capital Partners AG advises German institutional investor on its investment into a German fibre-optic platform
Investment with growth potential
B Capital Partners AG has advised German institutional investor on its co-investment into the Deutsche Glasfaser Group alongside the Canadian pension fund OMERS
Fibre-optic networks are part of the systemically relevant core-infrastructure of any country. Up to now, the nationwide coverage of fibre-optic networks in Germany is low in international comparison. The majority of existing networks is located in urban areas. Smaller cities and rural regions are significantly underserved. With its investment into Deutsche Glasfaser Group, the institutional investor advised by B Capital Partners therefore decided to go with an established player in the market, which focuses on non-metroplitan areas. This investment gives the investor the ability to participate in the growth in these regions.
This transaction allows the investor to complement its infrastructure portfolio with an additional investment that has stable cash-flows and an attractive risk-return profile.
B Capital Partners in its role as investment advisor has secured the access for the investor to this exciting co-investment opportunity with OMERS and has taken care of all aspects of the transaction from due diligence throughout to execution. On the legal side, the investor was advised by Allen & Overy.
---
B Capital Energy Transition Infrastructure Fund Finalises Acquisition of a German 10MW-Wind Farm
B Capital Energy Transition Infrastructure SICAV-SIF, a Luxembourg fund initiated by B Capital Partners AG, has completed the acquisition of a 100% equity stake in the German SPV "Ravenstein", owner of four wind turbines located in Baden-Württemberg, with an overall installed capacity of 10 MW. The wind farm generates over 20GWh of electricity annually, equivalent to the yearly consumption of ca. 5,000 households. The wind farm avoids CO2 emissions of ca. 17,700 tons p.a.
This transaction allows B Capital to further diversify the portfolio of its fund by adding a German feed-in premium wind farm. B Capital has a long history of investing and managing low-risk, core assets in general and onshore wind farms in particular, having transacted ca. 280MW of capacity, the majority of which in Germany with 20-year feed-in tariffs. Along these lines, in January of this year, the fund invested in 26 operational run-of-river hydro power plants in Norway.
---
GRESB and B Capital Partners AG release open source ESG due diligence tool for Infrastructure Assets
GRESB and B Capital Partners AG announce the release of their stand-alone, open source ESG due diligence tool (>> ESG DD Tool) for infrastructure assets, which enables investors to gain a clear understanding of the ESG risks and opportunities of an asset as an input to investment decision making. Investors have been searching for guidance, transparency and quality in this area. This new ESG DD Tool helps establish a standard ESG due diligence process for infrastructure investing. For the purpose of the ESG DD Tool, the GRESB Infrastructure Assessment for benchmarking assets has been adapted to reflect the requirements of the M&A/Investment process.
Investors typically face the following challenges in ESG due diligence:
lack of a structured process to identify all potential ESG factors
difficulty in identifying the material ESG factors for any given asset,
quantification of the (material) ESG risks and opportunities, which can make or break the business case of an asset.
The new ESG DD Tool addresses these challenges head on. It will enable investors to reduce, mitigate or control potential (material) ESG risks, improve the overall risk/return profile of an asset and maximize long-term investment returns.
Invitation to provide feedback
The ESG DD Tool is open source. We invite the infrastructure and investment industry to provide feedback. GRESB and B Capital Partners will update the tool in response to feedback. Being Excel based, the tool can also be readily adapted by the user to meet his/her own due diligence needs.
About GRESB
Mission-driven and investor-led, GRESB is the ESG benchmark for real assets. We work in collaboration with the industry to provide standardized and validated ESG data to the capital markets. Our coverage for infrastructure includes 500 infrastructure funds and assets. Combined, GRESB represents USD 4.5 trillion in real asset value. More than 100 institutional investors, with over USD 22 trillion AUM, use GRESB data to monitor their investments, engage with their managers, and make decisions that lead to a more sustainable real asset industry. We are a signatory to UNPRI. For more information, visit gresb.com. Follow @GRESB on Twitter.
About B Capital Partners
B Capital Partners AG is a partner-owned investment house, established in 2003 in Zurich. We exclusively focus on core sustainable infrastructure investing. Since 2010, we have invested and advised capital in excess of EUR 2.6bn across Europe. Our goal is to select superior infrastructure assets for our clients, while adhering to the highest corporate ethic as well as to state-of-the-art ESG standards. We are a signatory to UNPRI and a member of GRESB. For more information, visit www.b-capitalpartners.com.
---
Completed Divestment of a European 93MW Renewables Portfolio
B Capital Partners AG announces that the last post-closing conditions for the sale of three portfolios of renewable energy power plants have been completed. A Swiss Pension Fund sold the portfolios separately to three buyers during 2019.
A 52MW wind portfolio located in Northern France was sold to ERG; a PV portfolio of 15MW at various Italian sites was divested to an English infrastructure fund and a 26MW British PV portfolio is now owned by a UK-based PV fund.
B Capital Partners has been mandated to undertake and negotiate the sales process up until closing. The Pension Fund is very satisfied with the result of the divestment process.
---
B Capital Partners makes an investment in the Norwegian hydropower company Bekk og Strøm
Bekk og Strøm AS (BoS) owns and operates 22 small scale hydropower plants in Norway with a total production of 155 GWh as well as a development portfolio.
B Capital Partners AG, an infrastructure investment specialist based in Zurich acquires a 36% stake in BoS via its Luxemburg BC-ETIF TOR fund. BC-ETIF TOR invests exclusively in sustainable infrastructure in the energy transition sector. The longstanding minority shareholder has decided to leave the energy sector for internal reasons.
enso hydro GmbH remains the majority shareholder. It is an investment company owned by Austrian investors and the German hydropower-investment fund DWS Access Wasserkraft Beta KG, which is the majority shareholder in, altogether, 26 hydropower plants in Norway, Austria, Albania, and Turkey. enso GmbH, a renown and experienced Austrian based hydropower developer manages the hydropower investments.
Wolfgang Kröpfl, CEO of enso hydro GmbH is looking forward to having found a partner with B Capital Partners AG, who is not only interested in hydro power in Norway but also stands for future growth and sustainable engagement in this market.
B Capital Partners AG has studied the Norwegian hydro power market for several years and has looked for a suitable opportunity together with a strategic partner. B Capital Partners AG is excited to have implemented the strategy via its new partnership with enso.
The medium to long-term goal is to further strengthen BoS' market position in Norway and to grow its hydropower portfolio to 500GWh. The focus remains on the strategic development of the company, as already evidenced by a larger transaction with an investment group of several Finnish utilities.
---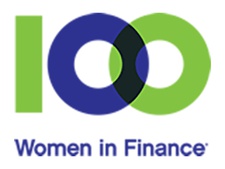 100 Women in Finance – Education Event, Zurich

December 6, 2019
Speaker: Dr. Barbara Weber, Founding Partner, B CAPITAL PARTNERS
Subject: Incorporating ESG into Infrastructure Investing
---
THE FINANCE OF INFRASTRUCTURE SYMPOSIUM, San Francisco

May 19, 2019
Speaker: Dr. Barbara Weber, B Capital Partners
Subject: Infrastructure as an Asset Class: An Overview
---
GRESB and B Capital Partners pilot ESG Due Diligence Standard for Infrastructure Assets
GRESB and B Capital Partners AG joined forces to pilot an ESG due diligence tool for infrastructure asset investments with the goal to develop a standard process to improve both the quality and efficiency of ESG due diligence.
B Capital Partners developed a pilot ESG Infrastructure Asset Investment Due Diligence Tool using the GRESB Infrastructure Asset Assessment as a basis. The tool has two goals:
for GRESB to offer investors and managers a high quality, on demand ESG due diligence service, supported by its proven platform and processes, in the context of e.g. acquiring new assets or regular assessments of assets for revaluation in annual financial statements, and
contributing to an international ESG due diligence assessment standard by making the tool available as open source, encouraging feedback to improve it further.
It is only when the results of ESG assessments are integrated into the business case that they get the appropriate attention. Integrating ESG factors in the due diligence will help to better understand the business in general and investment risks in particular, which in turn enable investors to reduce, mitigate or control certain risks, improve the overall risk/return profile and maximize long-term investment returns. There is currently no internationally accepted ESG-assessment standard for the ESG due diligence of infrastructure assets. This leaves investors to largely judge for themselves what they want to integrate in their evaluations, how to find the data for it, how to quantify the risks and opportunities, and how to publish and use the results.
In order to address this problem, B Capital Partners and GRESB conducted an ESG-due diligence pilot on the basis of 10 plus years of infrastructure due diligence experience. During the pilot, the GRESB Infrastructure Asset Assessment was modified to reflect the change of focus from benchmarking to due diligence and adapted to a checklist form. The checklist supports the ESG due diligence process and ensures all ESG risks and opportunities associated with the asset in question are identified. The most material "red-flag" issues are then summarised in the "red-flag" report together with potential mitigation measures.
In the future, GRESB plans to integrate this service into its existing, proven platform for ESG Assessment. This will simplify and standardize the process of ESG due diligence for the entire industry – addressing the lack of specific ESG due diligence knowledge and resources among investors.
Features of the service are expected to include: online, on demand availability for data input, validation of the submitted data, constantly available "punch lists" and red flag reports, which point to the most material ESG findings, as well as scoring and benchmarking against GRESB's ever growing database of infrastructure assets, and standardized reporting systems.
Once the ESG due diligence document is online, all participants of the infrastructure and investment industry are invited to use the open source standard. The feedback from the industry will be used to refine the methodology and lay the basis for a widely accepted and transparent ESG due diligence standard for infrastructure asset investments.
Going forward GRESB will build the Due Diligence Assessment into its online portal and offer this as an online support service.
In the meantime, please contact us if you have any comments or queries.
---
PEI Global Summit Berlin

March 18 – 21, 2019
ESG & Sustainability Forum
Speaker: Dr. Barbara Weber, Founding Partner B Capital Partners
Subject: Panel Session - Building a climate risk strategy within investments
What climate risks are inherent in infrastructure?
Identifying climate related opportunities in an infrastructure portfolio
How to disclose climate related risks aligned with the TCFD recommendations
Subject: Starting at the top: Why getting diversity right matters
Building and incentivising a diverse team
What do investors want to see from the managers they work with?
How diversity can be a crucial factor when selecting a manager
---
PEI Women in Infrastructure

November 28 - 29, 2018
Moderator: Dr. Barbara Weber
Subject: Midmarket Infrastructure
Finding value and avoiding return compression
---
SuperReturn Infrastructure, London

September 17 - 19, 2018
Moderator: Dr. Barbara Weber
Subject: Renewables and ESG
To what extent do renewables qualify as ESG? Should LPs invest in funds that combine renewables with midstream oil & gas, fracking or power investing supporting coal fired plants? How do these funds meet ESG requirements?