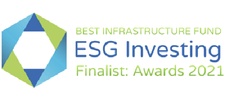 ESG Investing Awards 2021 - B Capital Partners a finalist of "Best Infrastructure Fund"
The ESG Investing Awards 2021 are the only awards devoted to assessing and evaluating the best companies involved in all areas of ESG investing across the globe. They are designed exclusively for banks, investment managers, research houses, rating agencies, index and ETF providers and exchanges.
B Capital Energy Transition Infrastructure SICAV-SIF, the fund initiated and advised by B Capital Partners, participated for the first time and is proud to announce that BCETIF is among the few finalists in the category "Best Infrastructure Fund". ESG Investing Awards received a vast number of high-quality nominations across the 28 fund, product and research categories. For more results: www.esginvesting.co.uk/awards/shortlistedfinalists2021/.
B Capital has demonstrated its commitment to sustainability already by having launched together with GRESB a fully transparent, open source ESG Due Diligence Tool (Download .xlsx/2,3 MB) for direct infrastructure assets in 2020. This innovative ESG-DD Tool helps investors to identify and assess any ESG risk, use the DD results to inform their investment decision, as well as comprehensively manage ESG risks and opportunities over the life-time of their assets