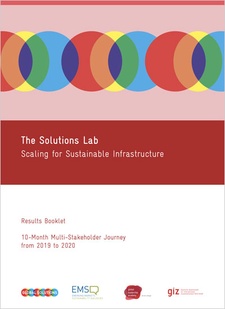 B Capital Partners participated in "The Solution Lab: Scaling for Sustainable Infrastructure"
Dr. Barbara Weber, Founding Partner of B Capital Partners AG, participated as one of 28 experts from 15 countries in a 10-month multi-stakeholder journey (Nov. 2019-Sept. 2020) to jointly identify sustainable infrastructure solutions that work as well as strategies to implement them at scale. The results and key outputs have been published in a Results Booklet: "The Solution Lab: Scaling for Sustainable Infrastructure".
Sustainable Infrastructure is globally recognised as key to realising the Sustainable Development Goals (SGDs) and the Paris Agreement on Climate Change. The participants of the Solutions Lab agreed to define sustainable Infrastructure as follows:
"Sustainable Infrastructures are man-built or natural systems that provide services in a manner that ensures economic and financial, social, environmental and institutional sustainability in line with the Global Goals and over the entire infrastructure lifecycle, from strategic planning all the way to decommissioning."
B Capital has been advancing Solutions Lab's objectives by developing and deploying its open source ESG Due Diligence Tool (Download .xlsx/2,3 MB). All assets in our portfolio contribute to UN SDGs and are managed under strict sustainability criteria. B Capital continues its work on integrating ESG-related risks and opportunities into financial models, including that under the Coalition for Climate Resilient Investments (CCRI) initiative.