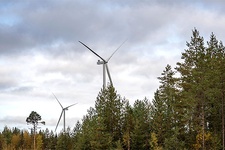 Wind farms in Finland
B Capital Partners co-invests in the 87MW Kaukanen and Keso wind farms in Finland, sparking a greener future and powering around 20,000 homes with sustainable energy.
Funds advised by B Capital Partners AG have closed a transaction with Finnish developer Puhuri and have become a co-investor with a 34.1% stake in the Finnish wind farms Kaukanen and Keso.
B Capital Energy Transition Infrastructure Fund has made a significant move in the renewable energy market, having just closed the acquisition of a 34.1% equity stake in the Kaukanen and Keso wind farms from Finnish wind developer Puhuri. These wind farms, situated 500 km north of Helsinki, are equipped with cutting-edge V162 6.0MW turbines by Vestas, with a rated capacity of 87MW and a combined energy yield of 290 GWh. This output is enough to provide carbon-free energy to around 20,000 Finnish households.
B Capital's Founder, Dr Barbara Weber, commented "We are proud to have become a new co-investor alongside Puhuri to the newly commissioned wind parks Kaukanen and Keso. We are looking forward to enjoying a long-term relationship in managing these wind farms together with Puhuri".
This move by B Capital underscores its strong commitment to driving positive impact and financial outcomes through its investments. In addition to its portfolio of renewable assets, the company has made several investments in battery assets in Germany and a hydropower run-of-river plant in Switzerland over the past six months. With this latest acquisition, B Capital reiterates its commitment to remain an active investor in the energy transition in the Scandinavian market, building on its existing expertise and experience in the renewable energy sector.