Sustainability Engagement
B Capital Partners strives towards contributing to the achievement of a number of the 17 UN sustainable development goals (SDGs) in every aspects of its business. To this end and in this context, it engages in and promotes a variety of sustainability-oriented initiatives of the infrastructure industry.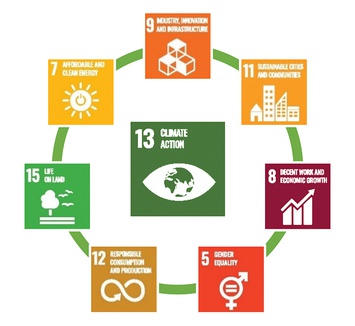 Memberships
Signatory of the UN PRI (Principles of Responsible Investment);
Member of GRESB, an investor-led initiative providing a framework to measure performance along ESG criteria based on self-reported data that is validated, scored and benchmarked amongst peers.
B Capital Partners is a producer of the Coalition for Climate Resilient Investment (CCRI). CCRI represents global private financial industry participants, in partnership with public institutions, which are committed to foster the quantification and integration of physical climate risks (PCRs) in investment decision-making.
ESG Risk Management
Development of an ESG Due Diligence Tool (ESG DD Tool) for direct infrastructure investing with and for GRESB (June 2020);
Upgrade of the ESG DD Tool to a full ESG Risk Management Tool with regard to the SFDR regulation (03/2021).
Industry initiatives
Invitation by GIZ to participate in an international "Solutions Lab – scalability of sustainable infrastructure" of 25 experts with a broad variety of backgrounds, which offers guidance to policy makes and the G20 talks;
Author of an article for GIZ on "Sustainable Infrastructure – a Business Case", (2018/2019).
Author of article for the WWF: "Guidance Note: Integrating ESG factors into financial models for infrastructure investments", (2019);
Sponsor of the International Institute for Sustainable Development IISD, to undertake a pilot project, evaluating and integrating sustainability risks and opportunities in a systemic financial model by applying the IISD's Sustainable Asset Valuation (SAVi) methodology to a German onshore wind farm (2018-2020).